Int'l/V-1/Am/Can
Ch. Serrants Bronx Von Whelan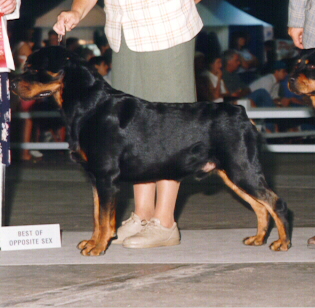 RO-52388 Good, CERF # RO-2990-24, Cardiac "normal"
1st Award of Merit MRC 1999
Stud Dog 1st
Mile High Rottweiler Club
Ind. Specialty Feb. 1999

Top-Ten Ranked 1999 & 1998
ARC Top-20 Contender 99 & 98
#1 in the Southwest in 1998

Stud Dog 3rd 1998
ARC National Specialty


Multi BISS/Select 1/Am/Can Ch.
Serrant's Bannor, CD
RO-38324-T "Good" RO-EL614-T

Top ten ranked '94, 95 & 96
1999 Award of Merit ARC Nat'l Specialty
and Stud Dog 1st (with Bronx & Q)
1996 BISS ARC Nat'l Specialty &
RCKC Nat'l Ind. Specialty


Multi BIS/BISS, V-1 Ch. Tobants Grant
RO-26385 "Good", RO-EL406-T

Top Ten ranked #1 1991 & 1993

ARC GOLD Sire, MRC Hall of Fame
Asphodels Brandy Black Onyx
RO-38789 "Good"

Needed only a "major" to finish. From a litter of 4 AKC Ch, 1 Can. Ch.

Ch. Arinov's Mikhail Zum Vanlare
RO-11853 "Good"